I started Core Gymball classes in September 2004. After working as a physiotherapist for many years I saw a widespread need in our community for well supervised, small group classes. I treated many people who I believed could be pain-free if they could strengthen their core and increase their flexibility through regular, supervised classes. I believed if these clients were in an enjoyable group environment that compliance would be higher than if they were simply exercising at home and that they would no longer depend on regular physiotherapy treatments to keep the pain away.
So I began running Core Gymball classes in Menai Community Centre. It began with 3 classes a week, all of which I ran outside of my normal private practice hours. Initially the classes catered for patients who I had treated in private practice. The results were better than I expected, and satisfied patients quickly helped spread the word!
The classes quickly grew and I had a second physiotherapist, Amy O'Mara (nee Piggott) join me. We stayed at Menai Community Centre for 3 years, with Miriam Hoadley and Claire Sobolewski joining the physiotherapy team over this time. In 2007, after many requests, we began to run Core Cardio Classes. These classes provided small group cardio workouts with the same high quality supervision by physiotherapists and with small class sizes where adjustments could be made to the program to cater for each client's needs.
We look forward to continuing to provide the highest level of care over the years ahead
In January 2008 we moved to Menai Central where we shared a larger, more suitable premises with Elite Physiotherapy. Whilst at Menai Central we developed our education program with a series of workshops including the popular Pelvic Floor Workshop. These two years saw more growth and the further refinement of our great health care environment.
Finally in October 2009 we moved to our very own studio. This spacious, light-filled room with its contemporary design provides an invitingly large class space as well as our own bathrooms and small assessment room. With 18 classes a week, we have recruited our fifth physiotherapist, Louise Richardson, to join our talented physiotherapy team.
The Core Gymball team have stuck by our commitment to keep small class sizes and to only employ qualified physiotherapists as our instructors. We have developed and refined our programs over the last 5 years and look forward to continuing to provide the highest level of care over the years ahead.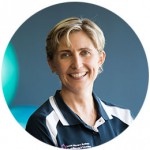 Natasha O'Brien
Founder and Principal Physiotherapist of CORE Gymball